Submagic is an AI tool that helps creators add captions to their short-form videos, including Instagram reels, YouTube Shorts, or TikToks, in less than a minute. The tool utilizes natural language processing algorithms and AI to transcribe the audio into written text.
The most interesting part about it is that it not only transcribes the audio but also highlights important words in the captions and adds emoticons wherever needed. This helps the right words stand out and makes the video look like a professionally edited short video, all of which would typically take hours of manual work to achieve. The tool also generates captions and hashtags for videos, making them basically ready to be published after downloading, without requiring any extra work.
According to its website, Submagic can automatically transcribe the audio and generate subs in 48 languages, including English, French, Arabic, Mandarin, and Hindi. The editor in the tool allows users to make changes in the autogenerated subtitles and design (typography, highlight colors, etc.). This is what it looks like.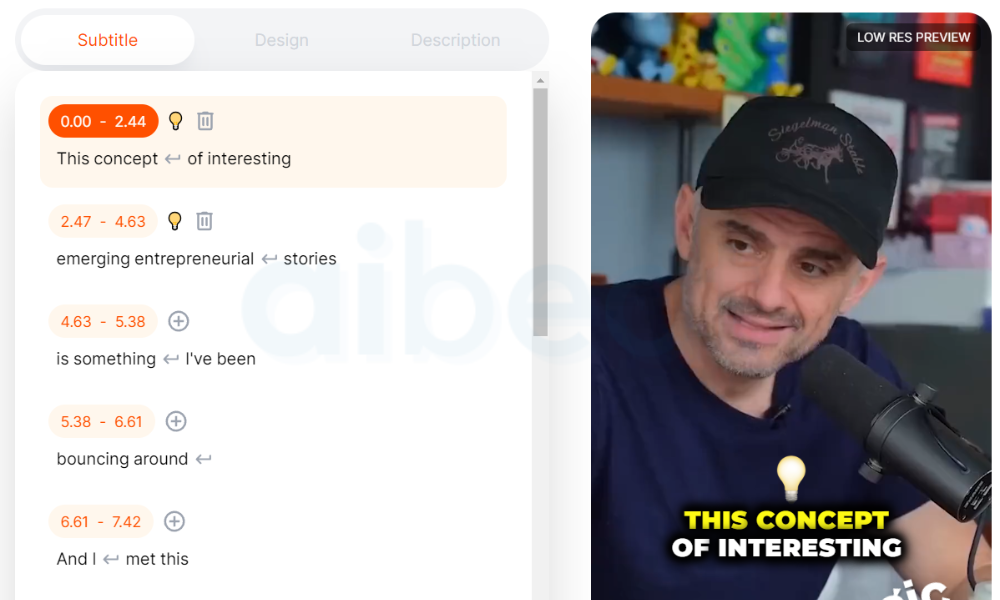 Submagic, unfortunately, doesn't offer a trial or free tier. They have two paid plans: $20 per month, which includes 20 monthly video credits and a maximum video length of 90 seconds, and $50 per month, which provides unlimited videos with a maximum length of 180 seconds.
We have played with the tool and absolutely love it. We tried it with English and it did an excellent job. We're not sure if it works well for other languages but before you pay for it, you can upload a video and test the tool. To be able to download a video, however, you'll have to buy a plan.
If you spend time or money creating short-form content for your podcast or any other type of media, Submagic could help you save both. The tool, however doesn't offer the ability to automatically create shorts from important parts of the videos or change the resolution or ratio of the video; those tasks still need to be done manually. (The video has to be in a ratio adopted for Reels or TikToks before it could be uploaded to Submagic). Adding subtitles and making them look great though is very easy and affordable with this tool.
We give it a 4.5 out of  5 overall rating; 5 out of 5 for accuracy, 4 out of 5 for pricing, and 4.5 out of 5 for usefulness.