Shopify, the Canadian company that runs world's leading software platform for online stores, has announced unveiled Sidekick, an AI chatbot that aims to to transform the way online merchants manage their businesses and analyze financial performance.
Shopify CEO Tobias Lütke took to Twitter to announce Sidekick in a video, explaining its impressive capabilities. Sidekick functions as a natural language tool, empowering merchants to make seamless changes to their websites and closely monitor store performance, similar to the AI co-pilots offered by other industry players.
Announcing Sidekick, the Shopify CEO commented, "Every entrepreneur faces a multitude of questions, and Sidekick will provide tailored answers specific to your business."
He also quickly shared his thoughts on the rise of AI, noting, "I can't think of any corner of the internet that will benefit more from AI than the pursuit of people building their own businesses."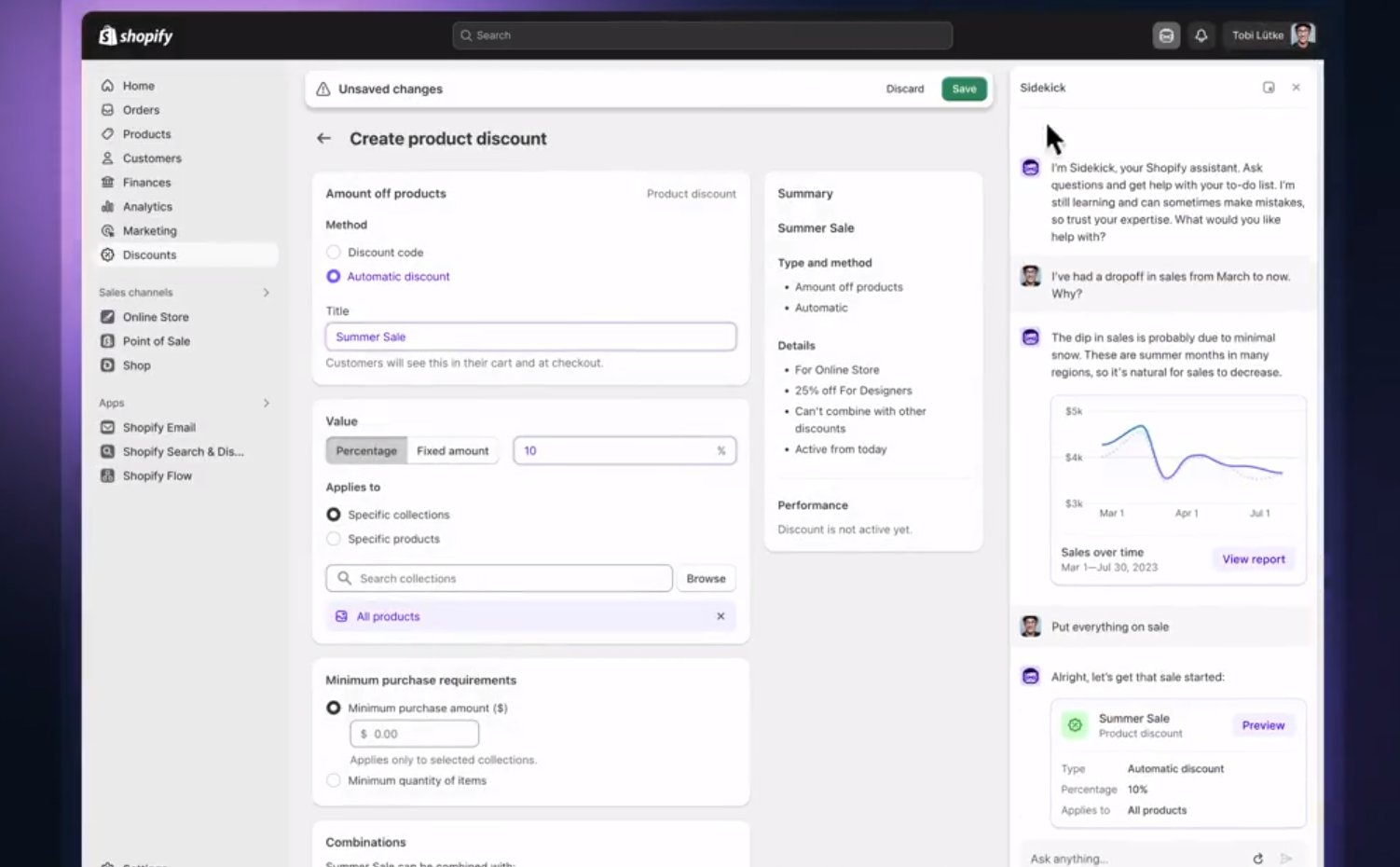 Sidekick would live inside Shopify's dashboard and can be accessed with a click. The most impressive part about it is that it knows everything about your store. The video demo showcased Sidekick's ability to provide valuable insights. For instance, when a snowboarding store owner inquired about a recent decline in sales since March, Sidekick accurately attributed the dip to seasonal factors, such as reduced snowfall during summer months in certain regions.
The chatbot's contextual awareness and accurate explanations highlights its potential to assist merchants in understanding their business performance.
Sidekick goes beyond providing information and empowers merchants to take action. In the video, the store owner requested a sitewide discount by typing, "Put everything on sale," prompting Sidekick to offer a practical tool for implementing the discount seamlessly. Additionally, the chatbot showcased its versatility by assisting with changing product offerings on the store's homepage, exemplifying its capacity to facilitate smooth transitions.
The Canadian entrepreneur assured users that Sidekick is designed to align with their entrepreneurial vision. He stated, "While it will not question your vision, it will certainly be able to help you make substantial changes if necessary."
He didn't share the launch date for Sidekick.