Microsoft has revealed that they plan to introduce ads in Bing Chat, its AI chatbot that's powered by OpenAI's GPT-4. The company has been testing ads for weeks as reported by different media outlets and Twitter users.
But this is the first time Microsft has shared some details on their plans to integrate ads in Bing Chat.
In a blog post, the company's corporate vice president Yusuf Mehdi who leads its consumer business addressed some of the concerns of publishers around the rise of this new form of search where people could potentially consume a large part of the content within apps like Bing, without having to visit the original source of the content.
The Microsoft executive said that they have two goals for publishers, "First, we want to drive more traffic to publishers in this new world of search. It is a top goal for us, and we measure success in part by how much traffic we are sending from the new Bing/Edge. Second, we want to increase revenue to publishers. We seek to do this by both driving more traffic to them through new features like chat and answers and by also pioneering the future of advertising in these new mediums."
Speaking about how they're looking to work with publishers on advertising inside Bing Chat, he shared the idea they've been exploring, "For our Microsoft Start partners, placing a rich caption of Microsoft Start licensed content beside the chat answer helping to drive more user engagement with the content on Microsoft Start where we share the ad revenue with the partner. We're also exploring placing ads in the chat experience to share the ad revenue with partners whose content contributed to the chat response."
He did not share any details about how much of the ad revenue would be shared with partners but it is safe to assume that it would be significantly less than anything a publisher would've earned from a click generated from their own website.
A Microsoft spokesperson speaking to The Verge, said, "Yes, ads will show in the new Bing, specifically in chat (as they do in the traditional search results). Since the new Bing is in preview, there may be some variability in how it's currently showing up. We're still exploring new opportunities for ad experiences and will share more over time."
The company has earlier also discussed ads in Bing Chat with advertising agencies.
What's interesting about the following Ad spotted by Twitter/debarghya_das it doesn't have a CTA. It would be really interesting to see what kind of ad formats the company experiments with.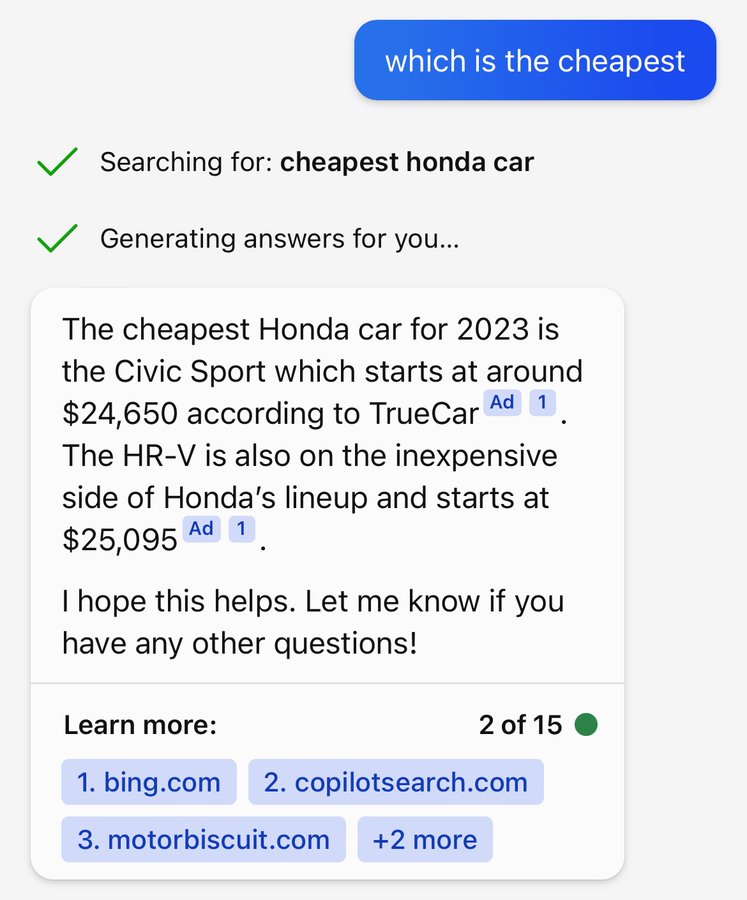 A lot would also depend on how users are engaging with the ads. It is safe to assume that they wouldn't want to see answers that have more ads than useful information for their questions.